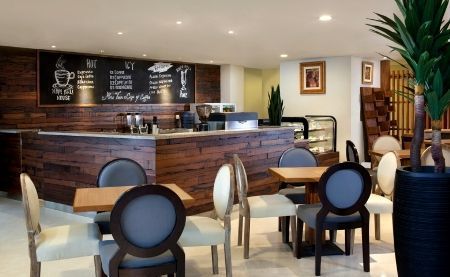 Only a few restaurant in Kuta offers great Bali coffee with classic recipes and deliciuos local cuisine in high standard. If you are in Kuta don't miss the chance to visit Kopi Bali House at PrimeBiz Kuta
Kopi Bali House - Kuta has a tantalising menu and an all-day dining concept, while also offering the complete experience and taste of Kopi Bali, a Balinese coffee business that dates back to 1935 and remains as authentic as its origins yet parallels its competitors in taste, variety and trendy presentation.
The stylish decor combined with the aroma of freshly roasted beans makes Kopi Bali House a very pleasant place to enjoy breakfast, lunch or dinner with a cup of the best coffee. The menu draws from the success of the renowned Kopi Bali House sister restaurant, presenting International and Asian specialties, while the desserts and pastries also provide the perfect accompaniment to the perfect cup. The coffee menu features a great choice of espresso, latte, cappuccino and mocha, decaffeinated and iced. The bar invites guests to enjoy beers and non-alcoholic refreshments.
If you feel lazy to dine in the restaurant, in-room dining is also available until 11 PM for delicious meals in your comfortable room.