Hot Deals
STAY MORE PAY LESS
STAY MORE PAY LESS - SAVE 20% PLUS ADDITIONAL BENEFITS!
When you stay stay longer you deserve BETTER VALUE for your money.
Stay dates: July 1, 2017 - March 31, 2018
Stay 5 nights or more and enjoy the following benefits:
additional 20% discount from Best Available Rates
Return airport transfers
Daily buffet breakfast
10% discount on Laundry
Late check out until 3 pm (subject to availability)
Free unlimited wi-fi internet connection in room and public area
Conditions:
Minimum 5 night stay
Only limited number room is allocated for this promotion
Price is subject to 21% tax and service fees
All benefits is valid for 2 persons per room
Promotional Code : LONGSTAY
For online reservations click on the online reservation button, select your dates of stay.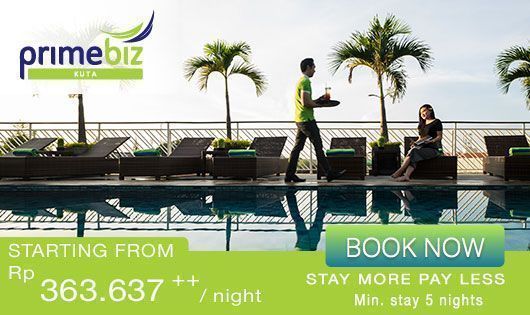 Boarding Pass 2017
3 DAYS 2 NIGHTS
Room Type
Package
Rate
Additional
Night
Superior Room
551,147
351,240
Periode booking: 9 Jan 2017 - 31 Mar 2018
Periode stay: 9 Jan 2017 - 31 May 2018
Paket menginap 3 hari 2 malam
GRATIS 1x voucher makan sebesar Rp. 58,888 net selama menginap berlaku untuk di PrimeBiz Cikarang & Karawang
GRATIS 1x fasilitas pengantaran ke bandara / stasiun kereta api, di PrimeBiz Kuta & Tegal
GRATIS "upgrade" ke kategori kamar selanjutnya (tergantung persediaan kamar)
GRATIS masa perpanjangan waktu "check out" sampai jam 2 siang (tergantung persediaan kamar)
GRATIS WIFI selama menginap
Disc hingga 15% untuk makanan saja
Syarat & Ketentuan:
untuk pemegang Boarding Pass dengan masa berlaku maksimal 7 (tujuh) hari dari tanggal penerbangan
Pemesanan kamar diperlukan dan berdasarkan ketersediaan
Satu boarding pass berlaku untuk 1 (satu) kamar dan TIDAK termasuk sarapan pagi
Reservasi kamar harus dilakukan pembayaran 01 malam sebagai jaminan pemesanan
Pemesanan wajib melalui Call Center Prime Plaza Hotels & Resorts di (021) 7279 9797 atau website ini
Pemesanan kamar sesuai dengan nama yang tertera di Boarding Pass & menunjukkan-nya pada saat check-in
Penawaran ini tidak berlaku untuk pemesanan group, biro perjalanan & perusahaan
Berlaku untuk semua Airlines domestic boarding pass
Syarat & ketentuan lainnya berlaku
Ada biaya tambahan per kamar per malam pada periode "HIGH & PEAK SEASONS" sbb :

PrimeBiz Kuta // 23 Jun – 01 Jul 2017 @200,000 & 27 Des 2017 – 04 Jan 2018 @250,000
PrimeBiz Tegal // 17 Jun – 02 Jul 2017 & 23 Des 2017 – 04 Jan 2018 @200,000
Paket promosi ini berlaku sampai dengan: 31 Maret 2018
Promotional Code : boardingpass
For online reservations click on the online reservation button, select your dates of stay.